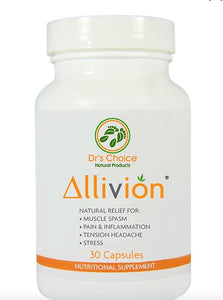 Dr. Choice Allivion is a maximun-strength botanical/nutritional formula. Made only with the finest natural ingredients that may help to relief and relax muscle spam, backache, minor arthritis pain, tension headache, toothache, leg cramps, PSM and menstrual discomfort in women.

NATURAL RELIEF FOR:

Muscle Spasm, Pain & Inflammation, Tension Headache, Stress

Suggested Use: Adult take 2 capsules every three hours until relief is obtain. Then 2 capsules with each meal and 2 at bedtime. If pain continues, see your doctor immediately.