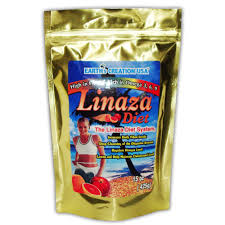 LINAZA DIET contains pure GOLDEN FLAX SEEDS AND PSYLLIUM HUSK, all natural sources of fiber and omegas 3,6 & 9 which are very beneficial for digestive health, colon health, the heart and the entire cardiovascular system. Also includes NOPAL CACTUS which is great for internal cleansing, blood sugar support and liver health*
Beneficial for all conditions related to digestion, such as acid reflux, bloating, improper or faulty digestion and weight gain. LINAZA DIET is also beneficial for lower digestive issues such as colon problems, constipation, parasites and diverticulitis.
Just mix in your favorite beverage.